Imagine a world without trees and where concrete reigns.

Now imagine a world full of lush woods, groves and gardens, with beautiful and sustainable buildings.

Where are we going?

Who do we choose to be and what will we leave for our children?

Our daily choices determine each tomorrow.< /p>

May we be aware of our responsibility.

For Love and with Love.

Ilana Lewinsohn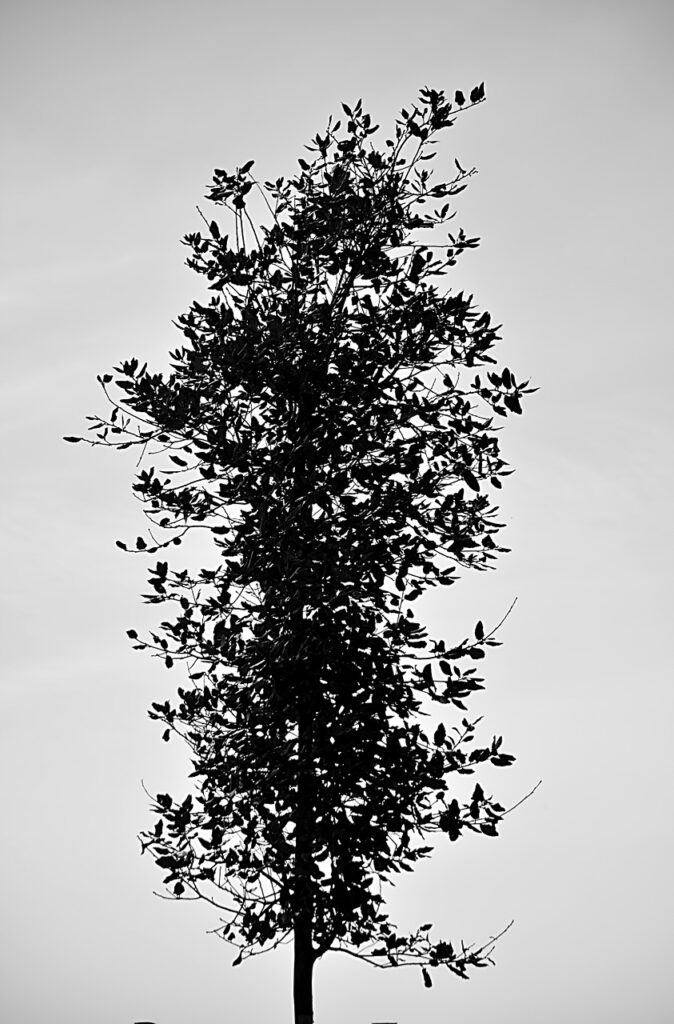 ---
We hear a call. From it, we launch another call.
Who is calling? The TREES and all the beings that inhabit the forests of this region, known as the Discovery Coast (for being the first land that portuguese conquers "discovered" in 1500). Who is hearing? Many ears and hearts are, and others are hearing the waves of this cry that comes from the woods and continues to echo.

And what kind call do we start? One through CONSCIOUS ACTION, coming from all sectors of the society from which we are a part (after all, no one is alone, we are all part, web, absolutely interdependent on each other, and our individual actions affect the whole). We call for greater participation by all, for a TRANSPARENT DIALOGUE and a joint search for solutions. We call for postures that consider the natural integrity of this region, in line with the necessarily SUSTAINABLE development, as has been widely discussed around the world, the paths to socio-environmental and economic balance.
We realize that there has been a new rediscovery of this region. The urban exodus, perhaps caused by the pandemic we are experiencing, heated up the real estate sector on the Discovery Coast, and we see an accelerated process of occupation of areas here. We know that it is an irreversible process and that the entire region tends towards strong urban growth. Our search is for intelligent development strategies, aligned with guidelines that take care of local beauty, environmental health, and traditional populations. Strategies that value what is richest in the region, consciously increasing the economy – with environmental tourism, educational tourism, and not predatory tourism and mining of what is most precious to this beautiful region.
What we propose is perfectly possible. It requires good will and a visionary look, projecting the future into the now, integrating what can no longer be left out. It is necessary to integrate the views of the departments of environment, urban development, education and culture, tourism. It is necessary to pay attention and take care that our architecture and urban landscape do not become something ugly, without charm, without poetry… on the beaches. And I need to take care of beauty. And I need to care for the beautiful.
Our municipality, Porto Seguro, south of Bahia, is known as preserved, as part of a region of extraordinary natural beauty, with beautiful beaches, clean waters, forests, good weather. Due to its beauty, Porto Seguro and the region have been attractive to people from all over the world – which is why we even have an international airport, which will be expanded soon. And all this is seriously threatened by the unconscious real estate pressure, by the disorderly growth that disregards the environmental look and does not seem to realize that neglecting the region's nature is like killing the goose that lays golden eggs.
IN THE LAST YEARS, PORTO SEGURO HAS BEEN AMONG THE FIRST IN THE LIST THAT CHOOSE THE BRAZILIAN CITIES CHAINS IN DEFORESTATION. Sad title, it doesn't deserve pride, but shame, for not taking care of what is most precious to the region, which ensures abundant tourism.
The scenic beauty of the beaches, as well as the quality of water from springs, rivers, beaches, depends directly on the existence of preserved green areas. The good weather also depends on this same condition, as is easy to see in the difference in thermal sensation when walking through the center of Porto Seguro or Eunápolis – where trees are rare and concrete is everywhere – and through Arraial d´Ajuda; Caraiva; Trancoso; Cabralia; Santo André, where the trees are still abundant. And when we say 'yet', we don't want to prophesy that it will be different in the future, but, on the contrary, we want to sound the alarm so that we find efficient strategies that change the scenario and prevent known errors from being repeated. We are summoning intelligence, conscious action, goodwill, empathy, coherence and, of course, love!
So why? Why are trees important? Why does a tree matter?
First of all, for its intrinsic value! As Arne Naess, one of the creators of the concept of Regenerative Culture, said so well, ´EVERY BEING HAS INTRINSIC VALUE, REGARDLESS OF ITS USEFULNESS FOR THE HUMAN BEING.´
But we can present some reasons that also qualify living trees as essential, for their usefulness within the ecological system of which we are a part.
---
LET'S GO TO THEM, OUR SISTERS TREES:
• Trees are beings of the plant kingdom, which cover the Earth's surface, giving it extreme beauty. Scenic beauty brings well-being. There is even a therapy called Forest Bath or Shinrin-Yoku, where the interactant walks through the forest, contemplates its beauty and breathes the pure air – which has been proven to bring benefits to physical, mental and emotional health, even fighting depression and anxiety, world evils. Depression and mental illness are on the rise, as are suicide rates – and deforestation around the world.
• Trees are home to countless animals. They are their houses, their homes, their resting place. Many animals depend directly on the existence of trees for survival. Without them, they don't exist either.
• Trees provide food, with their bark, leaves, flowers, fruits, seeds. Many animals – including people – feed on what the trees offer, then, within their life cycles perfectly integrated with the course of the seasons.
• Trees give their shade. They regulate the temperature of the soil and also the temperature of the air, under its canopy. Who has never sheltered in the shade of a beautiful tree and can feel the generosity of its welcoming presence?
• Trees form, with their roots, a network that structures and protects the soil, preventing erosion by rain or wind, and preventing hills come down when heavy rains come.
• Trees, as part of the Plant Kingdom, are air purifiers. They breathe oxygen just like us – which brings us closer together, as beings that inhabit the same planet and feed on the same atmosphere – but in their physiological process of growth, through photosynthesis, they consume carbon dioxide and release oxygen… This one, which has been lacking in some cities and without which we can't survive more than a few minutes!
• Trees transpire, just like we do, through their leaves. This physiological process participates in the regulation of air humidity and the cycle of water, rain, and rivers. The more heat, the more they transpire and return water to the atmosphere, composing the clouds, which spill out to nourish rivers and groundwater. Where does the water that trees transpire come from? From the ground, captured from rain and irrigation. This water cycle, described here in an extremely simplified way, is rich, complex and depends entirely on the existence of trees to happen. Nature is wise after all!
Native trees are part of the biome known as MATA ATL NTICA. WHO IS SHE?
The ancient natives did not know the expression Atlantic Forest, coined by the Portuguese and which carries a utilitarian and exploratory look. The natives knew ´Nhãru´, this large and imposing forest that stretched along the entire coast of what we know today as Brazil, formerly Pindorama, with whom they related in a different way. way, quite different from the one implemented from the year 1500. The way we have related to this and other Brazilian biomes carries the legacy of a uniquely exploratory approach, we take with us the world view that separates nature and us. We bring the concept that the development (see: DES – involvement) needs the destruction of nature, as if it were the enemy of progress. Today we know (as many native peoples teach us, with their worldviews) that it is just the opposite.
Fundação SOS Mata Atlântica and INPE developed the Atlas of Forest Remainings of the Atlantic Forest, which shows the changes that have been taking place in what is one of the richest biomes in biodiversity and the most threatened on the planet. They reveal the terrible and alarming situation of the Atlantic Forest in 2815 cities in 10 of the 17 states covered by it. Originally, in the 17 states where it lived, it occupied 1.36 million km2, of which 93% were devastated. This devastation began here, in Porto Seguro, 1521 years ago. As far as the Atlantic Forest has been studied, more than 20 thousand species of plants are known, of which 8 thousand are endemic (only occur in that region), and it presents 383 of the 633 animal species threatened with extinction in Brazil.
Besides all this, the south of Bahia is especially considered a HOT SPOT, that is, it is a natural area of ​​the planet Earth, with at least 1500 species that only occur there; which has great ecological diversity, with species at risk of extinction, and which has already lost more than ¾ of its original vegetation.
This means that it is of paramount importance to preserve what remains of native areas here. The creation of more Conservation Units in the region is indispensable and increasingly urgent. And I need those that already exist to be taken care of. It is necessary that the law be respected, that the Permanent Preservation Areas be respected, that the Legal Reserves be fulfilled and respected.
SUSTAINABILITY AND REGENERATIVE CULTURE
Much has been said for decades about sustainability. Previously seen as an "eco-annoying" conversation, today this approach is the central axis of international dialogues, as an essential background, as a basis for all other issues, because it is not 'only' about trees or animals or water or quality. of the air or the use of the soil… It's about all this together, and our possibility of survival on this planet, home, mother, who gave us EVERYTHING, and whom we have treated disrespectfully, ungratefully, unlovingly, improperly using its elements – which we treat as RESOURCES, because we understand that everything is there to serve us, ignoring the natural and interdependent relationships that exist between all beings, all kingdoms of nature: plant, animal, mineral, human, algae, fungi , microorganisms.
 We already know that SUSTAINABILITY IS NOT ENOUGH, WE NEED TO REGENERATE. It means that sustainability has already become something basic, essentially indispensable. Do we understand that there is no planet B? Are we, in fact, realizing that our survival on this planet depends on changing our attitude towards what we call 'natural resources'? Are we aware that we need air to breathe, water to drink, land to walk and plant, and that we are intimately related to the entire web of animals, plants, mountains, rivers, beings and beauties that make up this planet? Are we remembering that we are just one more species inhabiting this planet, along with many others that even came before us?  We are interdependent. It's a fact. By breaking this fragile web, acting as if we were self-sufficient and alone on the planet, we are planting sadness, disease, and cultivating our own end as a species. 
 How can we do our part and contribute to the common good and Good Living? 
We need to heal our relationships.
We are not alone in this line. And more and more hearts and hands must join it. Do you know the UN SDGs? Sustainable Development Goals, proposed by the United Nations, in 2015? They comprise a global agenda adopted that year, with 17 objectives and 169 goals to be achieved by 2030.  Let's just cite them, to contextualize this prose and show how much everything is interconnected, and how much time there is no longer to look at just one aspect, disregarding the others. EVERYTHING IS INTEGRATED, we need to develop integrated thinking too. Real estate development in our region? Great, but how is this being done? And how can and should it be done? 
GOALS OF SUSTAINABLE DEVELOPMENT – UN, 
ERDICATION OF POVERTY
ZERO HUNGER AND SUSTAINABLE AGRICULTURE
HEALTH AND WELL BEING
QUALITY EDUCATION
EQUALITY OF GENDER
DRINKING WATER AND SANITATION
CLEAN AND AFFORDABLE ENERGY
DECENT WORK AND ECONOMIC GROWTH
INDUSTRY, INNOVATION AND INFRASTRUCTURE
REDUCING INEQUALITIES
SUSTAINABLE CITIES AND COMMUNITIES
RESPONSIBLE CONSUMPTION AND PRODUCTION
ACTION AGAINST GLOBAL CLIMATE CHANGE
LIFE ON WATER
LIFE ON EARTH
PEACE, JUSTICE AND EFFECTIVE INSTITUTIONS
PARTNERSHIPS AND MEANS OF IMPLEMENTATION
These goals, adopted worldwide, concern us. All of us. We need to change the choices, the way of carrying out actions, to actually build the way to this new world, new way, where everyone's well-being is truly sown, taken care of. 
To do this, you need:
OPENING FOR DIALOGUE; 
TRANSPARENCY IN POLITICAL ACTIONS;
GOOD COMMUNICATION BY THE PUBLIC ADMINISTRATION WITH THE POPULATION, publicly explaining ALL actions and interventions related to suppression of trees, environmental interference or change in the landscape;
REVISION AND UPDATE OF MUNICIPAL ENVIRONMENTAL LEGISLATION;
CUNNERS MORE COMMITTED TO THE ENVIRONMENT;
MORE SUPERVISION ENVIRONMENTAL;
ADEQUATE TRAINING OF ENVIRONMENTAL INSPECTION AND ENVIRONMENTAL POLICE;
MANDATORY EDUCATION, WITH THE CREATION OF A BOOKLET, FOR REAL ESTATE AND REAL ESTATE AGENTS, related to the importance of environmental care, in all its fronts, and especially with regard to the preservation/suppression of trees;
PROGRAM OF ATTENTION AND CARE FOR REGIONAL ARCHITECTURE, respecting the local cultural aspect;
INVESTMENT IN PROGRAM SPECIAL IN EDUCATION, prioritizing the environmental issue and the preservation of this region;
We leave this manifesto as a record of purpose and action, as representatives of organized civil society, in the certainty that we are being heard with due attention that such an important topic implies. 
In the name of all the trees and forests, especially those of this region of the Discovery Coast, always inhabited by the Pataxó people and which more and more is becoming the home of people from all over the planet, we invite you to join your voice to this call. Let us therefore take care of this area that we are responsible for guarding, together with its native people. 
"To take care of the others that we might never meet, just plant a tree! Someone will enjoy its shade and eat its fruits."  Ubiraci Pataxó, from Santa Cruz Cabrália.
---
Here we sign, in compromise:
. Verdejar d'Ajuda Socio-Environmental Association
. Canto da Floresta Institute, Arraial d'Ajuda 
. Ciranda School Garden, Arraial d'Ajuda
---
We are the fruits of yesterday, of those who came before us

We are the seeds of tomorrow  

We are better than we used to be. 

Let's remember that our greatest strength

Is LOVE.

May we work together.  

Ilana Lewinsohn
SUBSCRIBE AND SHARE OUR PETITION:
SIGN THE PETITION FOR THE CONSERVATION AND RECOVERY OF THE ATLANTIC FOREST OF PORTO SEGURO